Three-Way Liberator Hand Truck
All the benefits of a convertible hand truck with a 45-degree capability. The B&P Liberator 3-Way hand truck allows access into elevators, hallways and other tight spaces where traditional convertibles won't fit. Ideal for bottled water and document shredding companies.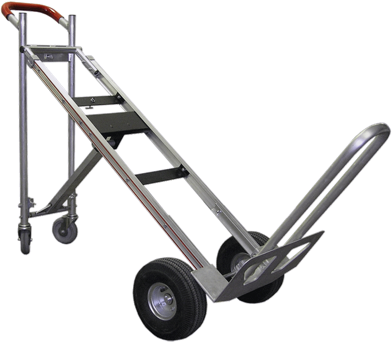 Critical components are engineered from steel.
Latches lock the cart securely in the upright and 45-degree position.
Wheel brackets constructed of non-cracking, high strength extruded aluminum — vs. cast aluminum, which can crack under heavy use.
10" x 3.5" 4 ply pneumatic wheels with precision bearings.
High tensile steel axle.
Cast aluminum 18" x 7-1/2" nose plate.
Integrated 27" folding nose for large loads. Extends out or can be tucked into the frame and stored out of the way.
500 lb. capacity in upright position.
900 lb. capacity in 4-wheel position.
Weighs 48 lbs.